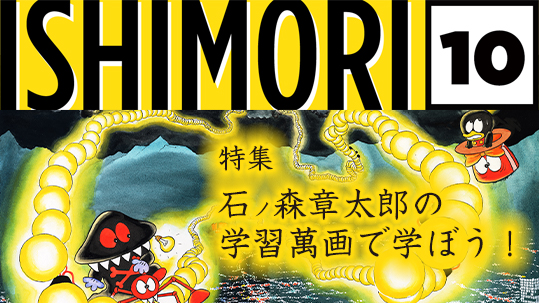 November 20, 2020

WEB magazine "ISHIMORI MAGAZINE" No. 10 has been delivered!

WEB magazine "ISHIMORI MAGAZINE" No. 10has been delivered!

今回は大特集として『石ノ森章太郎の学習萬画で学ぼう』をお届けしています。
コロナ禍の中での勉強方法にも変化が出てきている昨今、石ノ森が描いた数々の学習萬画から知識を得られる作品の数々をご紹介。他にも「マンガ日本の歴史」新装版発売にあたり、伊沢拓司さんと石森プロ会長の柴崎誠と早瀬マサトによる対談など全6記事を公開しています。是非ご覧ください。
The contents are as stated below.
● Let's learn with Shotaro Ishinomori's learning Manga
Ishinomori draws a number of learning manga in order to accurately convey "difficult to understand but want to know" information using thefamiliarity, comprehension, and fun functions of the media called manga.​
This time, we will introduce a wide variety of learning mangafrom history, chemistry, economy to affairs !?​
●「マンガ日本の歴史」新装版発売記念!
東大クイズ王、伊沢拓司氏と石森プロスタッフによる座談会を実施、その内容を大公開!
​-DVD release information of the robot comedy "Ganbareiwa !! Robocon Urara ~! Koisuru Juiceless Tantanmen"that has returned to Reiwa!
● Held at "Ishinomori Manga Museum" and "Ishinomori Shotaro Furusato Memorial Hall" in Miyagi Prefecture Delivering the latest information on special exhibitions!
cyborg 009 To the cat !? Special exhibition at the introduction of manga artists !?
-Cyborg 009 is appointed as an advertising character of Gear Co., Ltd.!
We asked the president about the decision to appoint this time in an interview!
●"ISH InoMORI DNA" to interview people who are closely related to Ishimori Productions
This time, we interviewed Mr. YasukiKobayashi, Deputy Editor-in-Chief ofAkita Shoten Champion RED!