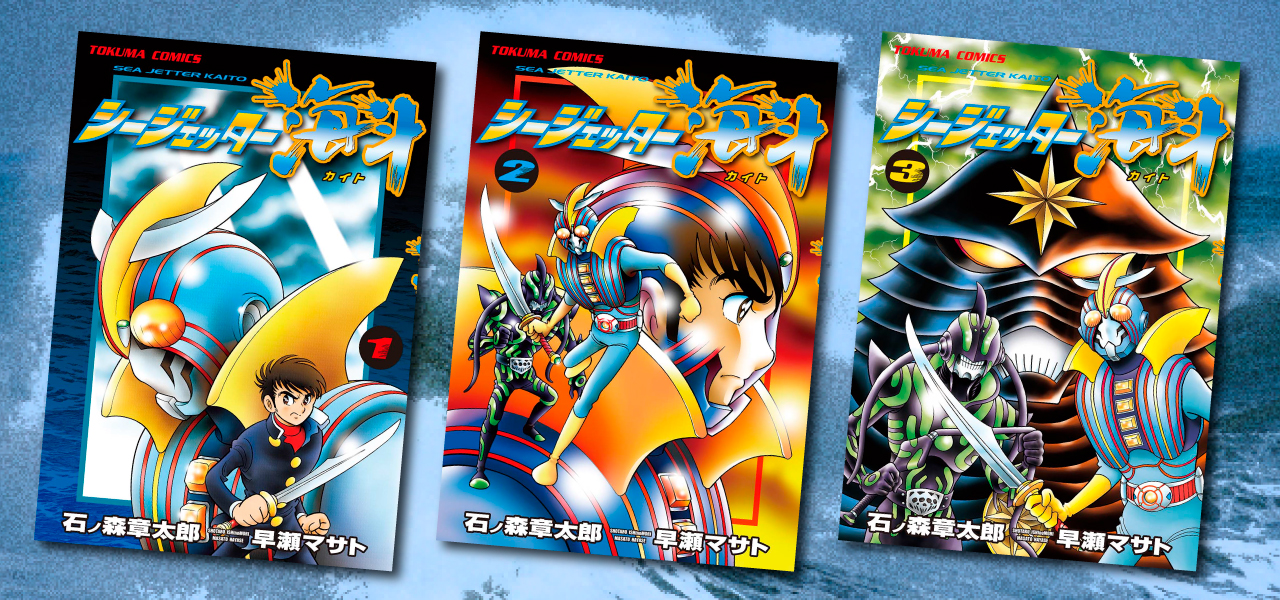 July 23, 2019

Ishinomori Mangakan's hero "Sea Jetter Kaito" is now available on e-book!

On July 23, today, on the anniversary of the opening of Ishinomori Mangakan in Ishinomaki City, Miyagi Prefecture, a serialized serialized version of the special effects hero and toy information magazine "Hyper Hobby" (Monthly) was published as a serialized hero manga, "Sea Jetta". —Kaito "(3 volumes in total) has been turned into an e-book and distributed.

"Sea Jetta-Kaito" was born in March 2004 as a hero of Ishinomaki Mangakan in Ishinomaki City by the rough sketch of Shotaro Ishinomori by Masato Hayase (Professor Ishimori). Masato Hayase also worked on manga drawings, and "The hero statue fighting and suffering with the power of the enemy" is a content that also shares the theme common to Ishinomori's work.

At the end of each volume is a rough sketch by Shotaro Ishinomori, a creature design by the late Yasushi Nirasawa, a creature design by the Himelanian Empire, and a live-action version of the limited edition screening of Ishinomori Mangakan, "Sea Jetter Kaito Special Edition" (production: Toei) staff & cast Interviews are also posted.

If you haven't read it yet, please take a moment to touch "Sea Jetter Kaito".

※mainly,
Kindle
BookLive!
LINE manga
Renta!
ebookjapan
BOOK ☆ WALKER
Comic seamore
DMM.com
honto
Rakuten kobo
d book
Readerstore
Book pass
… Scheduled to be distributed elsewhere.
* Depending on the site, delivery may be delayed.

Animage Plus introductory article Please see also.