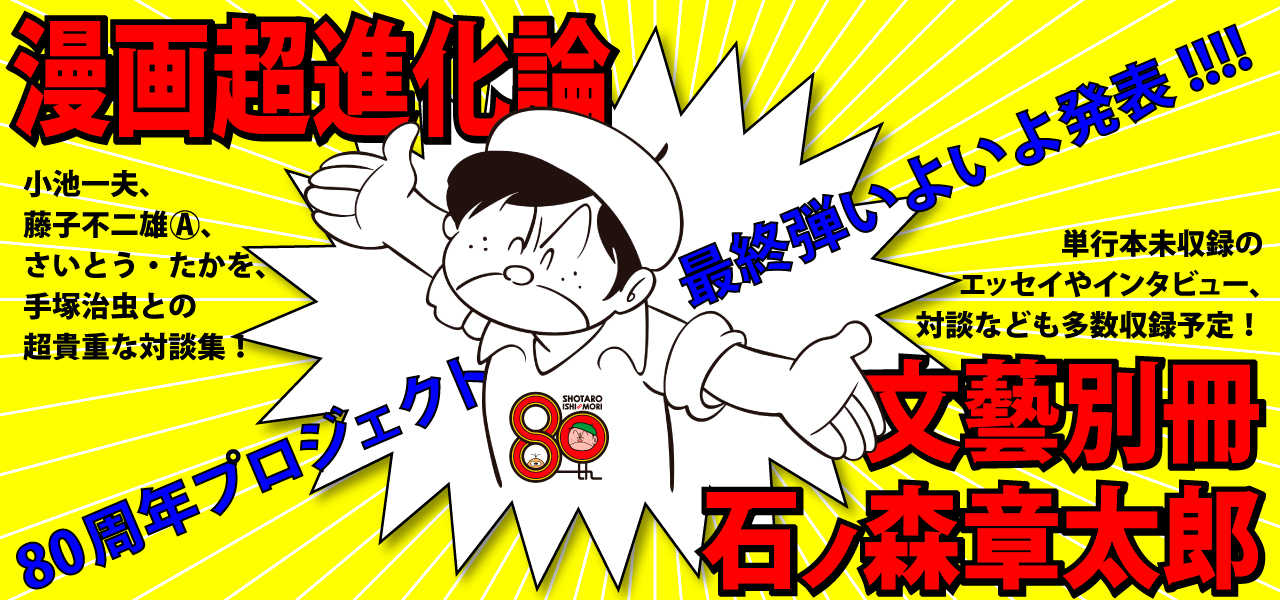 January 24, 2019

Shotaro Ishinomori's 80th anniversary commemorative book, final bullet announcement!

Shintaro Ishinomori's 80th birthday is finally over.
Many memorial books have been released so far, but these two books decorate the finale.

◎ Shotaro Ishinomori "Theory of Manga Evolution"
河出文庫、2019年4月刊、予価780円(税別)
Since it was published in 1989, one book that was difficult to obtain for a long time has been released again as a bunko.

Shotaro Ishinomori serves as a host and is a collection of dialogues that talked about the present, past, and future of manga with teachers of old age.

Interviewees: Kazuo Koike, Fujiko Fujio (A), Saito Taka, Osamu Tezuka (title omitted)

Tezuka Osamu sensei was also died during book editing after dialogue, and at the time I left the following comments.

"It was probably the last time that Mr. Tezuka talked about this, probably the last time, I heard the" testament "to the manga world" - Shotaro Ishinomori

◎『文藝別冊 石ノ森章太郎』(KAWADE夢ムック)
河出書房新社、2019年4月刊、予価1300円(税別)
In accordance with the "Banjo painter Shotaro Ishinomori exhibition I wanted to be a da vinci" scheduled to be held at Setagaya literature pavilion from April 20, a Mook featuring Shotaro Ishinomori will be published.
Essays, interviews, talks etc are also scheduled to be included in the booklet.
Please also expect us.