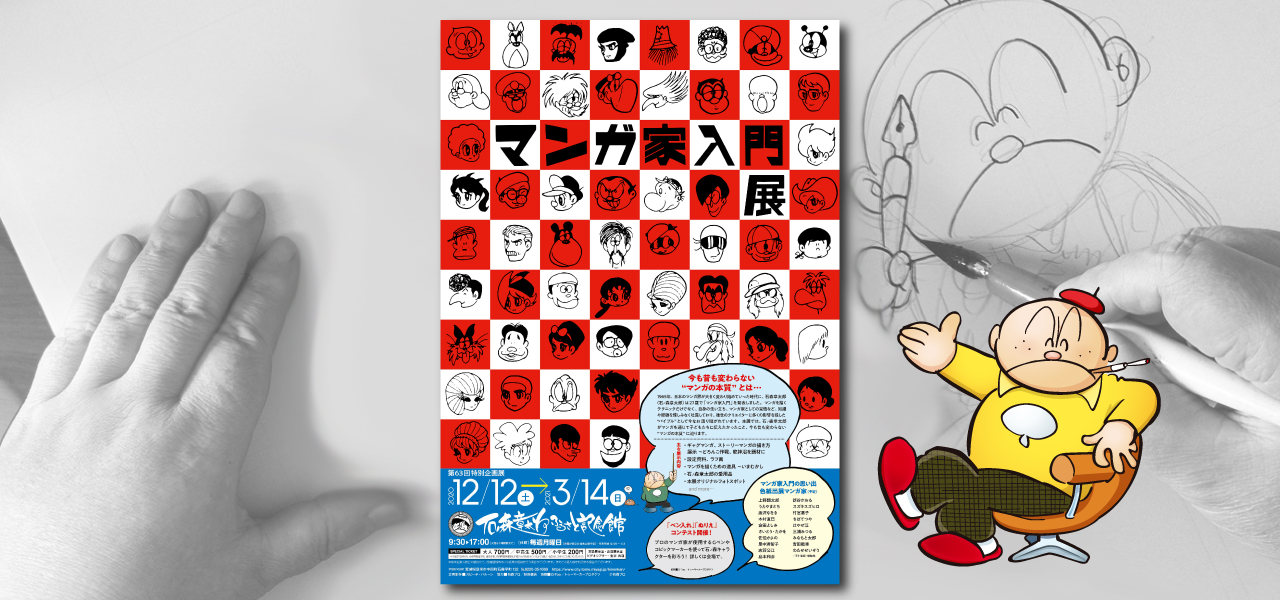 November 13, 2020

"Introduction to Manga Artists" will be held at Shotaro Ishinomori Furusato Memorial Hall!

「石ノ森章太郎ふるさと記念館」が2020年7月20日より開館20周年期間中となっており、その期間中、11月23日まで開催の「石ノ森キャラクターデザイン展」に続き、「マンガ家入門」を題材にした特別企画展が2020年12月12日から開催されます。

In this special exhibition, you can see what Ishinomori wanted to convey to readers, including children, through this book and manga, and the "how to make manga and the essence" that has not changed in the past.

In addition to some materials from the time of conception and tools for drawing manga, photo spots, colored paper with memories of the introduction to manga artists drawn by famous manga artist teachers are also on display.

[Teachers scheduled to participate (in alphabetical order, titles omitted)]
Kentaro Ueno, Tochi Ueyama, Naoki Karasawa, Naomi Kimura, Yoshimi Kurata, Saito Taka, Kayo Saeki, Machiko Satonaka, Kimie Shiga, Kazuhiko Shimamoto, Kaoru Shintani, Suzuki Suzuhiro, Keiko Takemiya, Tetsuya Chiba, Atsushi Hayase, Mitsuru Miura, Taro Minamoto, Sensha Yoshida, Seizo Watase

Furthermore, with the cooperation of G-Too Corporation / Too Marker Products Co., Ltd., we will hold an experience corner and contest to draw Ishinomori characters using G-pen and Copic markers.

Please drop in when you come to the area during the event.

~~~~~~~~~~~~~~
[Introduction to Manga Artists]
Venue: Shotaro Ishinomori Furusato Memorial Hall
132 Ishimori Machi, Nakada-cho, Tome-shi, Miyagi 987-0601
https://www.city.tome.miyagi.jp/kinenkan/index.html

Date: December 12, 2020 (Sat) -March 14, 2021 (Sun)
Opening hours: 9: 30-17: 00 (admission is up to 1 hour before)
Closed days: Every Monday (If Monday is a national holiday, the next weekday) ・ Year-end and New Year holidays 12/29 to 1/3

[Viewing fees when holding special exhibitions]
General (university students and above): 700 yen (550 yen)
Middle and high school students: 500 yen (400 yen)
Elementary school students: 200 yen (150 yen)

*() indicates group fee.
*Permanent exhibition, video theater, special exhibition room, admission to birthplace will be a set.
*Group discount rates are available from 20 people.

* Free for preschoolers.
* Persons (including one caregiver) who have been issued a physical disability certificate, nursing certificate, or mental disability health and welfare certificate can enter the museum free of charge.
~~~~~~~~~~~~~~
* "Cold symptoms and fever continue for 4 days or more (same for those who have to continue taking antipyretics)"
Please refrain from visiting if you have symptoms such as "strong fatigue (malaise) or dyspnea (dyspnea)" or "continuation of coughing".
* We are implementing measures to prevent the spread of coronavirus infection in the museum, so we ask for your cooperation when visiting.