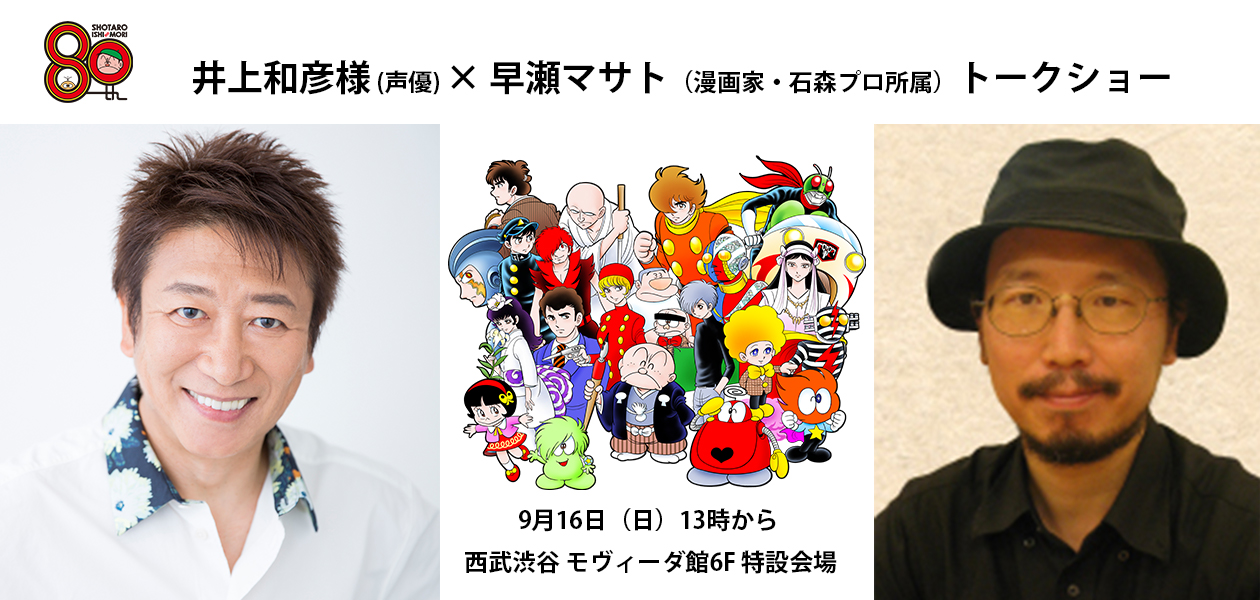 September 13, 2018

Mr. Inoue Kazuhiko (voice actor) and Hayase Masato (manga artist / Ishimori Pro affiliation) talk show will be held! !

A talk show between Kazuhiko Inoue (voice actor) and Masato Hayase (manga artist / Ishimori Productions) will be held at Seibu Shibuya Movida Hall 6F = special corner from 1 pm on Sunday, September 16!

Kazuhiko Inoue is a voice actor who is indispensable for talking about "Cyborg 009" by playing Joe Shimamura in the second TV series.
The other party of this talk show is Masato Hayase, a former assistant of Shotaro Ishinomori and a manga artist belonging to Ishimori Productions.

I'm looking forward to what kind of story will come out about Ishinomori's work, such as the unexpected relationship between the two.
Please come visit us!

Date and time: September​ ​16 (Sunday) afternoon from 1 pm (Doors open: I know 12 PM 30)​
​Location:Movida Hall sixth floor = special site


* A participation ticket is required to participate in the talk show.
September​ ​15 (Saturday) all day, and 16 (Sunday) tax 4 in at our venue until noon, 000 yen or more (1 receipt meter, multiple receipt sum is impossible) the talk show participation ticket of arrival to the purchase of the customers I will hand it over. (It will end as soon as it runs out.)

* Time and contents are subject to change without notice.

プロフィール
井上和彦(声優)
子どもの頃から『サイボーグ009』を愛読し、1979年放送の『サイボーグ009』テレビシリーズ第2作では島村ジョー役をつとめ、代表作となる。『サイボーグ009』には欠かせない存在の声優。ほかに『NARUTO-ナルト-』はたけカカシ役、『夏目友人帳』ニャンコ先生役など。

Masato Hayase (belonging to cartoonist Ishimori Productions)
Joined Ishimori Productions in 1989 as an assistant to Shotaro Ishinomori.
Became an assistant to Shotaro Ishinomori's last years. Currently, Genma Taisen Rebirth is being serialized.