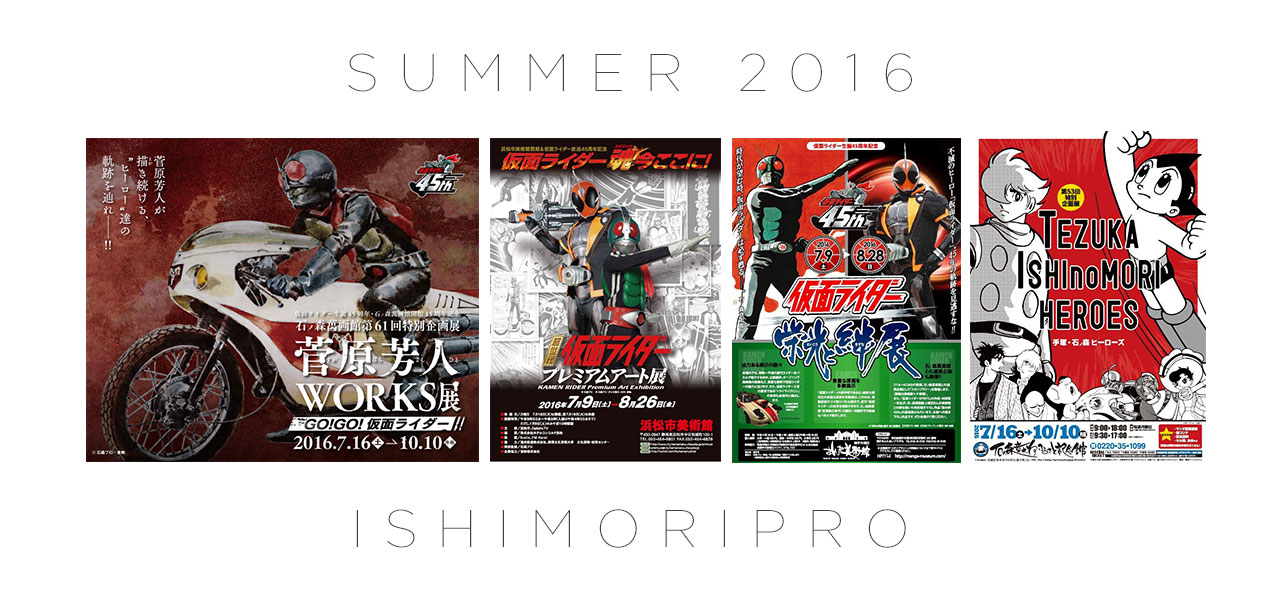 August 17, 2016

Ishinomori related event news this summer!

During summer vacation, there are plenty of events related to Shotaro Ishinomori all over the country!
There is also a stamp rally, so please enjoy it!

【Akita Prefecture ・ Yokote】
"Masked Rider Glory and Armor" Exhibition
To commemorate the 45th anniversary of Kamen Rider, the original manga, panels from Showa to Heisei, statues and real vehicles of the tricyclone are on display!
■Location: Yokota Masuda Manga Museum
■Period: Until August 26
http://manga-museum.com/ex-info
[Shizuoka Prefecture, Hamamatsu]
"Super Generation Masked Rider Premium Art" Exhibition
Kamen Rider's original manga raw manuscripts and illustrations, numerous statues and valuable still photos are displayed in over 400 exhibits!
■Place: Hamamatsu City Museum of Art
■Period: Until August 26
http://www.city.hamamatsu.shizuoka.jp/artmuse/tenrankai0917.html#kamen
[Miyagi Prefecture, Ishinomaki]
"Yohito Kuwahara WORKS" Exhibition
A lot of illustrations and actual products of Yoshito Sugawara, who has drawn the package illustrations of Kamen Rider related products!
■Place: Ishinomori Mangakan
■Period: Until October 10
http://www.man-bow.com/manga/kikaku/61th/
【Miyagi prefecture · Tome rice】
"TEZUKA ISHino MORI Heroes" Exhibition
Introducing the encounter and interaction between Osamu Tezuka and Shotaro Ishinomori, along with numerous materials and works!
Among them, Astro Boy drawn by Shotaro Ishinomori!
■Location: Shotaro Ishinomori Hometown Memorial Hall
■Period: Until October 10
http://www.city.tome.miyagi.jp/kinenkan/INDEX1