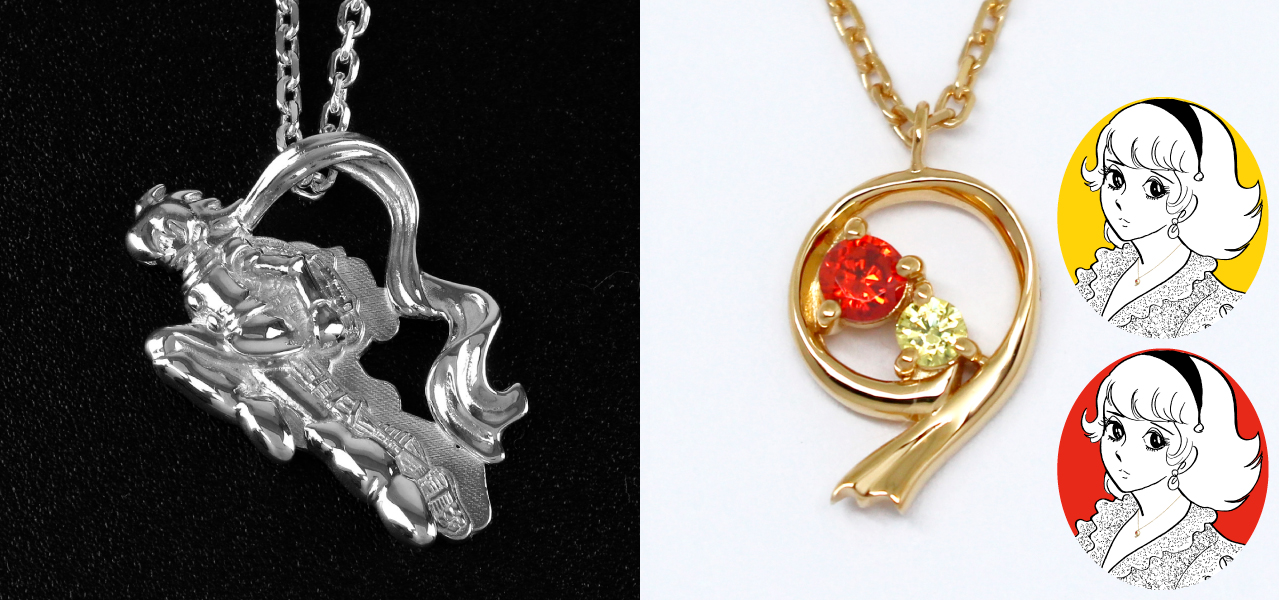 July 19, 2019

"For Who! Cyborg 009 Exhibition" @ Graveyard Gallery-Additional Products!

7月19日(金)に連載開始55周年を迎える「サイボーグ009」を記念したイベント、「誰がために!サイボーグ009展@墓場の画廊〜サイボーグ009大解剖 新装版発売記念〜」にて、アクセサリーブランド2社の限定アクセサリー受注販売が決定!

First, from "fenomeno", silver accessories that image the "accelerator" activation scene of Joe Shimamura appeared.

From the figure that left the afterimage and sped the muffler, "Accelerator! It is a finish that seems to hear Joe's name line.
The design of the internal mechanism peeking from the afterimage respects the original design drawn by "Shotaro Ishinomari", arranges it for accessories, and is expressed precisely in detail, and it is an irresistible item for fans.

Next, from "MATERIAL CROWN", accessories with a sober atmosphere inspired by character costumes appear.

The main motif is the scarf, which is the feature, and "00" is expressed by the two pyroxenes of the costume colors "red" and "yellow", and "9" is expressed by the flowing lines of the scarf.
Small and easy to use on a daily basis regardless of gender, it is a design packed with 55 years of thought.

※ The illustration worn by the character is just an image, not a reproduction of the accessories worn in the work, it will be completely original design.

Both items are "Who's for! Product samples will be exhibited at the Cyborg 009 Exhibition, so please take a look when you come to the event.

Details of each product and sales method are as follows.

- gnomeno: Cyborg 009 silver accessory [accelerator] (14,000 yen excluding tax)

The magazine of "Cyborg 009 Great Dissection New Edition" released on July 19, "Who is for! During the Cyborg 009 Exhibition, it will be sold in limited-order production at the event venue.

- MATERIAL CROWN: Cyborg 009 series start 55th anniversary image necklace (14,000 yen excluding tax)

"Who for! During the Cyborg 009 Exhibition, it will be sold at the event venue at the reception of advance orders.
("After receiving advance orders, we may accept orders at MATERIALCROWN, etc.)

http://hakabanogarou.jp/west/west_oshirase/6655/

Don't miss it!