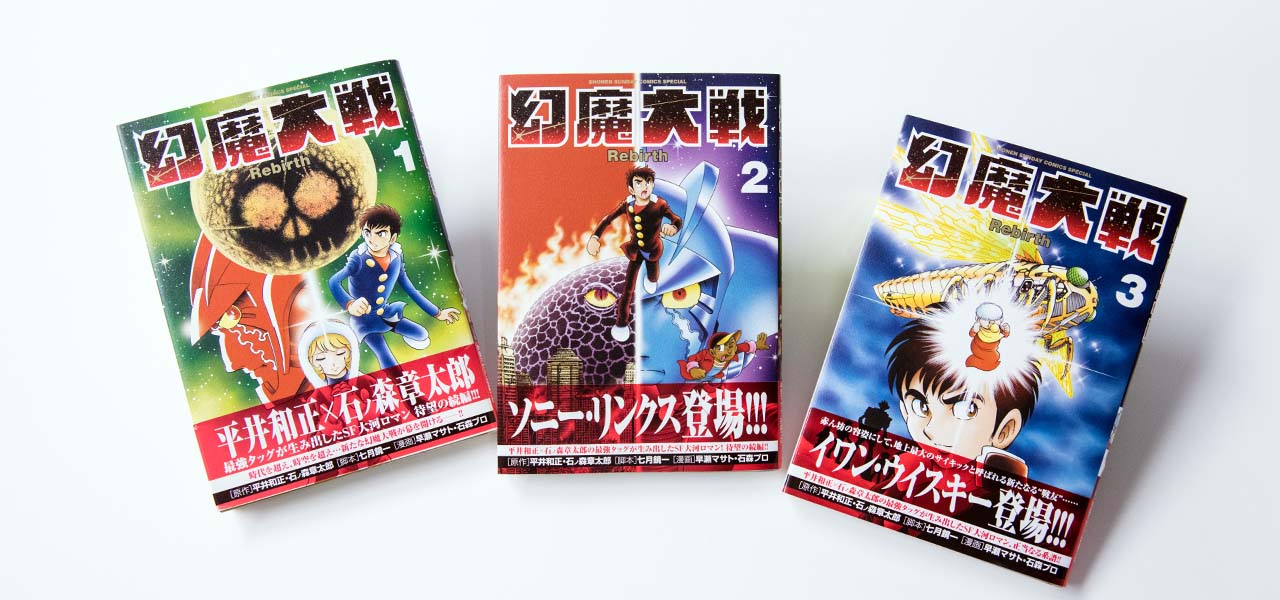 August 1, 2016

"Phantom Fighter Rebirth" episode 25 delivered

Club Sunday, Sunday Ueburi"Phantom World Taisen Rebirth" that is distributed free of charge at No. 25 will be the 25th episode and it will be more exciting!
Can he save his sister Miko Higashi! What? The way of the fight with Damien! What?
Phantom World War

Rebirth

What's
With this phantom war and original work, the series that is newly serialized is "Phantom World WarRebirth"is.
Screenplay is a mirror-1 July who is also said to be a successor with her disciple of Hirai Kazumasa.
Manga is Masato Hayase · Ishimori Pro who served as Assistant to Professor Shotaro Ishinomori.
With the next generation, the new beyond the time and space, the new spectacle warfare begins to go beyond the times.
Numerous characters and episodes that appeared in the original appearance, as well as the original superpowers, the battle making full use of the brain has been spreading.
Phantom World War
Rebirth

How is it made?
This time, Phantom World WarRebirthI will show you just how little it is made.
First of all, the scenario will come up from Mr. July.
The scenario of Mr. July who knows the original novel and manga is deep and it is deeply composed and perfectly constitutes the view of the world of Phantom World such as relationship of time, place, character, and it has been put in letters I feel.
And based on that, Hayase creates a name (temporary painting)
This name is expressed in manga as the current Ishimori work while following the composition and expression of Mr. Ishinomori.
And from here, Mr. July and Ms. Hayase look directly face to face, I make confirmation and reconcile one frame at a time, after exchange opinions, I am current manga.
Destruction of the Universe"Spectacle"Continue fighting with Vega, please read through the new fights of the lengths.
Mr. Hayase Masato Comment
Phantom Fighter 'is a magazine of Weekly Shonen Magazine,science fictionA writer's work by Professor Kazumasa Hirai and Professor Shotaro Ishinomori formed a first tag. In the later book, it is "Hirai Kazumasa - Original work Shotaro Ishinomori · Picture". However, at the time of serialization, along with Mr. Hirai, "Izumi Asuka" was written in the original notation. Izumi Asuka was a pseudonym for Professor Ishinomori who made it by tinkering with Izumi Kaga. Because of that, it seems to have influence of Mr. Ishinomori and his sister Yuie in the relationship between the protagonist's Tohosho and his sister Tomoko Higashi. Among the families who opposed the dream of becoming a cartoonist, it was my sister Yuzie who cheered me on the only friend.
意欲作として執筆された「幻魔大戦」でしたが、発表時1967年には・・まだ早すぎたのか、打ち切りの憂き目に会う事になりました。巨大な月が地球に大接近するという、幻魔の圧倒的な力の前に人類の滅亡が示唆されて終了となります。
その後、1979年に平井先生が単独で小説として発表した、角川文庫版「幻魔大戦」全20巻が大ベストセラーとなった事からも、やはりマンガ版は早すぎたのでしょう。
1983Even when it became the first animation work of the Kadokawa movie in the year, it restrained numerous animation movies released at the same time, and it is the top box official record. Character design at this time was Professor Katsuhiro Otomo, an up and coming guy at that time.
さて、マンガ版の「幻魔大戦」ですが、私自身、打ち切りとなった以降の展開が気になって仕方ありませんでした。2005年頃、平井先生にお会いした時にも、開口一番、それを訊ねました。
At that time I was writing that scenario ahead, but I was disappointed by the reply that it is not in memory anymore, but that was introduced at that time was Mr. Mikazuki July. Mr. Mikazaki July is a manga original author who Masashi Hirai has full confidence in. From that point of view, we are currently working with Mr. July to visit "Phantom World WarRebirth"I am depicting. It is a sequel to the manga version I wanted to read.
Mr. Hirai and Professor Ishinomori have also entered the tea ceremony. However, I believe that the artist's soul will continue to live while the work is alive.
When I meet with Professor Hirai and Mr. Ishinomori someday, I will do my best to be praised as "Oh, well done." It is the work of a person who reads it.
Thank you very much.